Galvanized Steel Concertina Wire Loops, 24" Diameter, 33 Loops
Concertina Wire ( Loops )
Single wire or cross type.
Model: RAZOR WIRE 24HEL 33L GA/GA STD, Barb Cross Sectional Width: 2.4 Inches Nominal
Galvanized Concertina Wire Loops, supplied as per following details:
Wire Cross Sectional Width: 1.000 Inches Nominal
Each unit package: 11 LB
Single Wire Cross-Sectional Shape: Round
Barb Cross-Sectional Shape: Rectangular
Barb Point Quality: 4
Center to Center Distance between Barbs: 4.0 Inches Norminal
Feature Provided: 24" Diameter, 33 Loops, Galvanized/Galvanized
Material: Steel, Galvanised
CONCERTINA RAZOR WIRE BTO – 22 or BTO – 18 CROSS TYPE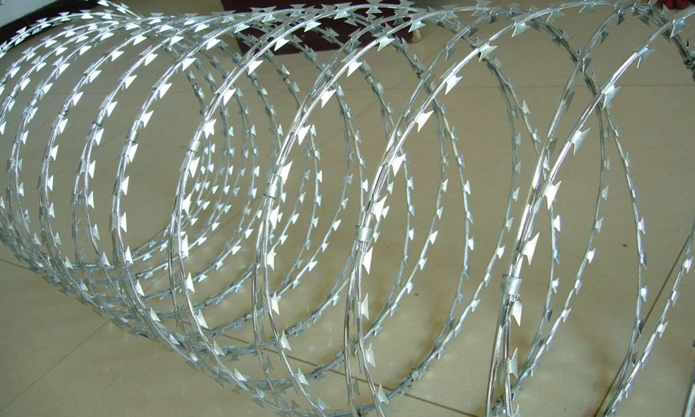 Model: BTO – 22 Concertina Razor Wire, Loop DIA 900mm, 56 Spirals, Supplied in Full 20FT Container for Netherland, Material: Hot Dipped Galvanized
Supplied as per following details:
Blade thickness: 0.5 mm
Wire Dia.: 2.5 mm
Barb Length: 22-24 mm
Barb Width: 15 mm
Barb Spacing: 34 mm
Weight per coil: BTO – 22 / 12 kgs; BTO – 18 / 9 kgs
Clips Per Coil: 5 PCS
Spiral Turns: 56
INSTALLED LENGTH: 900MM = 15 Meter – 155 Mtr Straight Unreeled
Packed on Plastic or wooden fumigated pallets 50 coils each pallet
Concertina Razor Wire Security Fencing Projects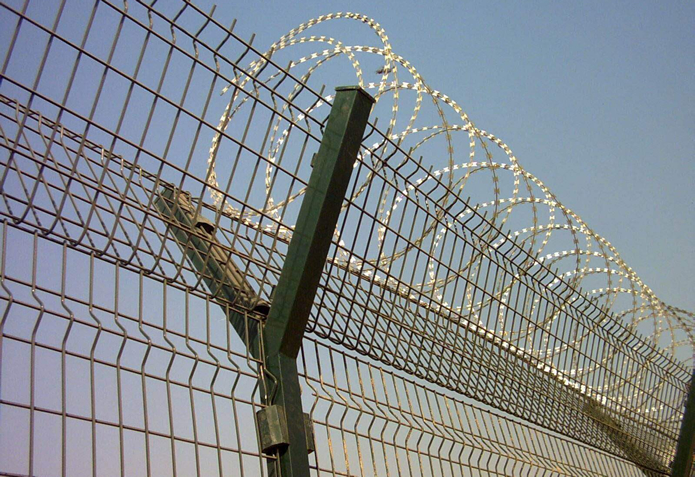 Hot-Dip Galvanized BTO – 22 Razor Wire Fencing System with Green Powder Coated Y Post and 3D Steel Mesh Welded Fabrics
Fencing system supplied per following details:
Support Type: Y Post
Concertina 38″ in diameter are fabricated from 0.020″ thick, galvanized steel strip.
Strip is clinched around a galvanized steel core wire.
Each roll consists of 56 coil loops with pairs of coil loops alternately clipped together at five locations around the circumference.
Each coil extends to 50′ when deployed at 21″ coil spacing.
Mesh Style: Electro Welded Galvanized Wire Mesh.
Security Level: High Security.
---
Post time: Oct-29-2019